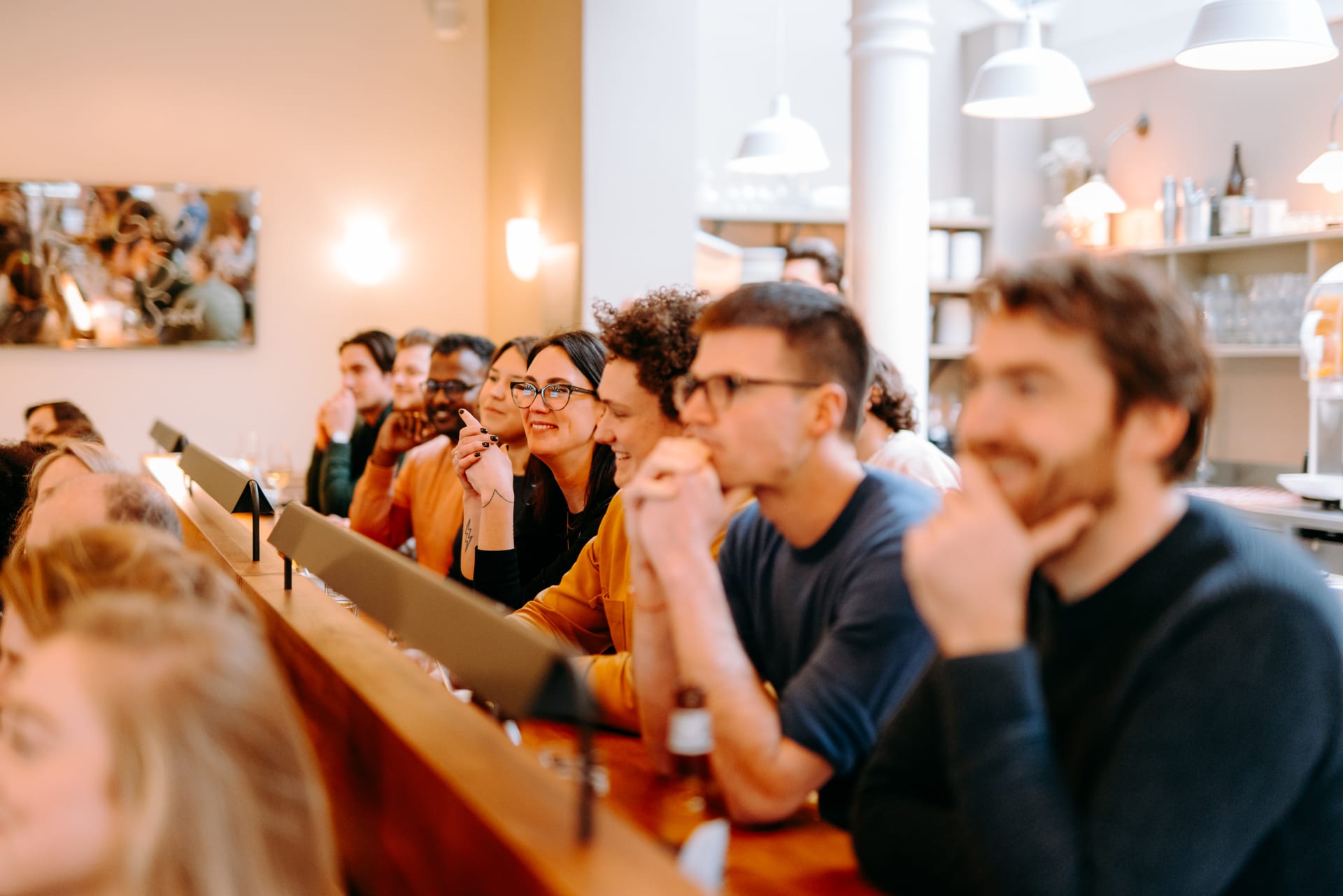 Product Manager
Amsterdam

,

Noord-Holland

,

Netherlands

Product
Job description
Driven by a love of good food, design, and tech, we've built a restaurant growth platform that challenges the status quo. Now, we're building the world's first fully fledged loyalty automation suite for mid- & high segment restaurants, combined with a brand new consumer platform to discover and (re)book the best restaurants in Europe.

Your Opportunity
Shift the paradigm in restaurant tech by building solutions that push the industry forward.

Deliver best-in-class products with a consistent and clean user interface. Our products are designed to be intuitive and easy to work with yet they deliver great value-add too and have tremendous impact on our customers and their businesses.

Improve our current frameworks and processes
What you'll be doing
Perform mission discovery to define the problem space and desired outcomes (see Our way of working)

Defining & measuring success metrics for each of your missions

Contribute to the product roadmap by analyzing and prioritizing product feature requests

Conduct market research and competitor analysis

Develop an understanding of the customer journey through user research, including interviews, focus groups, and surveys

Incorporate data, research and market analysis to justify product decisions and tweaks.

Prepare content for internal and external release communications
Job requirements
You have a minimum of 4 years of experience as a Product Manager or similar role

You understand product requirements and user psychology

You are comfortable with data and uncovering insights

You have the ability to perform well in a fast-paced environment

You are great at collaborating with both technical and commercial colleagues

You have an entrepreneurial mindset: confident, yet eager to learn

You have an interest and passion for revolutionizing the restaurant industry

You are fluent in English


Our way of working
We aim to push boundaries, question the status-quo, and disrupt not only with our products but also within Formitable. In this case, doing it the Formitable-way means: instead of working with 'Scrum' or other popular frameworks, we've adopted a distinct agile approach: Mission-Lead Development. The key principles of this framework are:

Working together closely in smaller multidisciplinary teams.

Fully owning deliverables by always shipping full features.

Mission Led: we work towards a specific quantifiable goal - simply ticking off lists is a thing of the past.
Using the best of all worlds - within these mission cycles - we still use many agile tactics like stand-ups and retros. At the same time, we are constantly aiming to collaboratively improve our framework over time to best set up our teams for success.
Our 6-week development cycle is bookmarked by a week of planning/scoping and a buffer week where all newly built features are shipped.
The impact you'll have
Our goal is to become the #1 sustainable growth platform for restaurants. We believe that restaurants have become lifestyle brands and with forward-thinking digital products, restaurateurs will create the same perfect experience online as they already do offline - resulting in a more valuable, loyalty-led business.
In this role you will have impact and will be touching on many different aspects of Formitable. Most notably:


Help restaurants succeed by improving and innovating products that serve 3500+ restaurants and their guests in Europe

Grow the adoption and recurring usage of the Formitable system while keeping CSAT (currently 96%) and NPS (currently 60) at our excellent levels


What we offer
A bright office in Amsterdam's Jordaan district, with a sun-drenched roof terrace and our own bar & restaurant

Daily restaurant-worthy lunches from our in house chef Roel Paping

30 vacation days and 25 days working abroad

20 unpaid leave days

A hybrid work environment

All the tools you need to be a high performer plus a €3000 annual training budget

An annual restaurant budget and monthly well-being budget

A free food tattoo of your choice

A Swapfiets to bike around Amsterdam or commuting allowance
And more, check out all Formitable's Perks & Benefits in the top menu!
Formitable and your future team
We're a diverse bunch bonded by our love of good food, innovative tech, and great design. We are creative thinkers who strive to constantly challenge the status quo in the restaurant industry. Together we push toward a brighter future for the restaurant industry.
This role sits within our Product team based out of our Amsterdam and is led by our Head of Product, Sheri Kruzel (starting in May).
Our Products
Formitable:
Our B2B product allows restaurants to build their online brand, gain loyal fans, and manage their guest experience. You'll recognise our widget, which sits on the restaurants' websites. Check it out in action at De Kas and Choux.
Table:
The Table app helps you find a reservation at the top restaurants in your city. That last-minute table at the new spot you've been eyeing? It's yours. Make and manage your booking all in one spot — and share dinner details with your friends.
Zenchef X Formitable
In January 2023 we announced the joining of forces with Zenchef, our biggest to-date competitor in France. Over the following years, we aspire, together, under one group, to grow to 35.000 restaurants and become Europe's biggest, most innovative, and most loved restaurant growth platform.
We are an equal opportunity company and we are committed to building a diverse team that feels welcome in our workplace. We do not discriminate on the basis of race, colour, national origin, sexual orientation, gender, age, mental or physical ability, or any way you represent yourself. We strongly believe diversity makes for a more successful company.