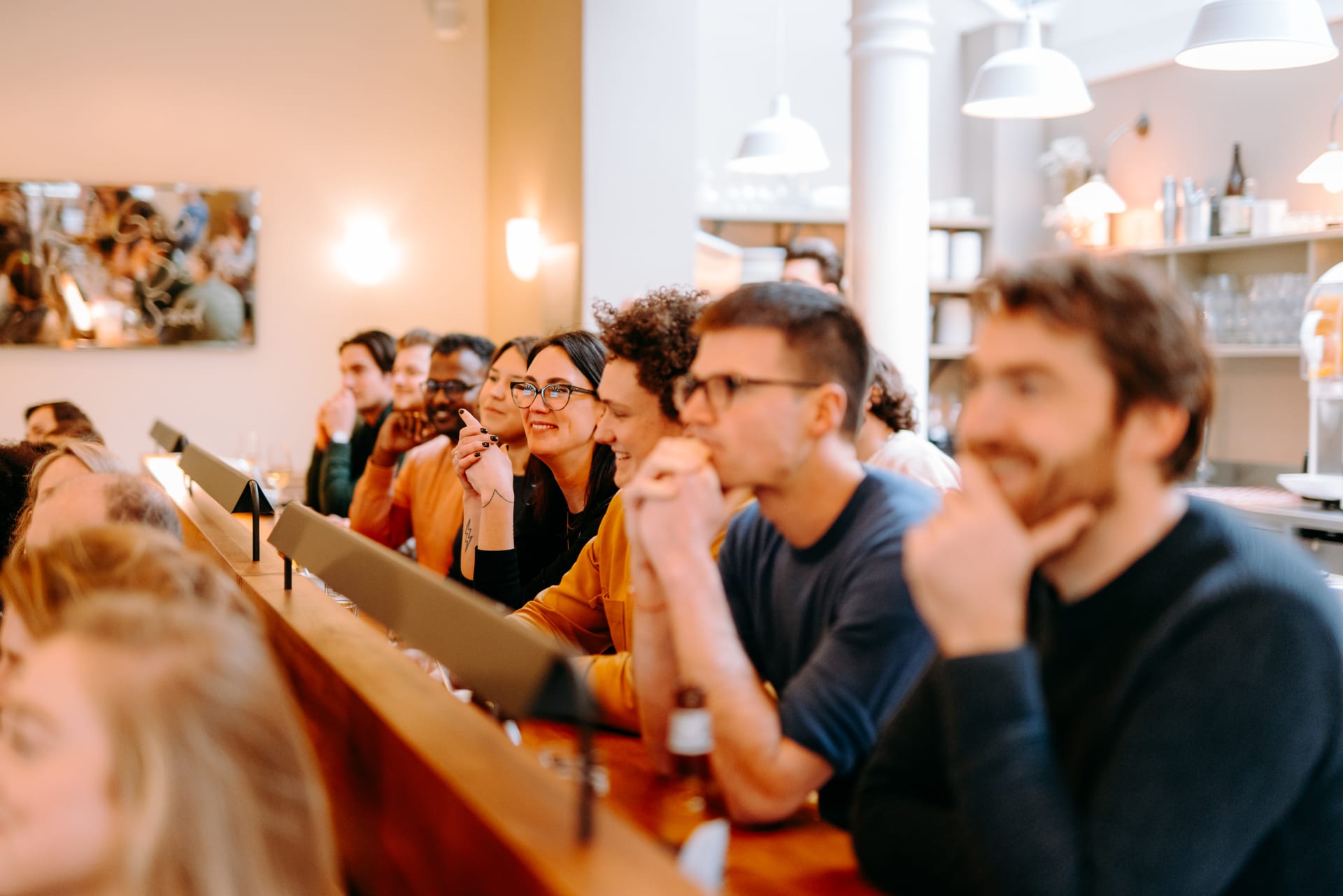 Senior Product Designer
Remote

Paris

,

Île-de-France

,

France

Product
Job description
Help us create tech that brings you to the table! At Zenchef, we're building a restaurant platform that enables guest relationship management and enhances the guest experience, giving each a respected seat at the table.
We are looking for a Senior Product Designer to join our Product team. The Senior Product Designer will lead the design of our products and experiences, and for helping us to disrupt and innovate in the restaurant industry!
Day-to-day
In the Product Design Team:

Strategic Visionary: Whip up the strategic direction and design vision, adding that special touch to our overall product look and feel. Set and refine design quality standards, ensuring a delightful connection between vision and execution.
Design Leadership: Lead major design initiatives, broadcasting the efforts of the design team across Zenchef. Join us for a feast of design reviews for other product designers and champion a customer-centric approach.
Talent Growth: Mentor and nurture talent within the Product Design team, ensuring a continuous infusion of creative and skilled individuals.
In Discovery:
User-Centric Research: Savor the flavors of user research, gaining deep insights into user needs, pain points, and behaviors. Collaborate with our cross-functional kitchen brigade to define problem statements and set goals for the discovery phase.
Design Thinking: Ideate and brainstorm solutions, just like crafting a new recipe. Facilitate workshops that bring a diverse set of ingredients to the table for innovative problem-solving.
Validation and Iteration: Conduct usability testing and user interviews to taste-test and iterate on design ideas. Collaborate with the team to prioritize features, defining the minimum lovable product (MLP) for development.
In Delivery:
Collaborative Execution: Work closely with our engineering sous-chefs to ensure the feasibility and technical implementation of design solutions. Create high-fidelity prototypes and design assets that are as visually appetizing as a gourmet dish.
Agile Integration: Participate in agile development processes, including daily stand-ups, sprint planning, and retrospectives. Support the development team with a menu of clear design specifications, addressing design-related questions or issues.
Iterative Improvement: Continuously iterate and enhance designs based on user feedback, metrics, and business goals. Maintain a design system and documentation for consistency and scalability, just like following a well-loved recipe.
Job requirements
You are located in France, Netherlands, Belgium or Portugal
You bring a senior experience in product design, with a specific focus on B2B and B2C SaaS products
You can share your portfolio, a testament to your mastery of user-centered design principles
You thrive in situations where there is little to no definition, frequently demonstrating the ability to turn insights, data, and research into impactful strategy
You thrive in situations where there is little to no definition and frequently demonstrate the ability to take insights, data, research and develop strategy
You're a masterful communicator who breaks down complex business problems and defines new concepts
You're a role model for the rest of the team, you lead workshops and programs to educate the broader design org
It Would Be Nice If You Also Have:
Experience with designing for web and mobile platforms
Experience with designing for complex systems
Experience with design systems
Experience with mentoring and coaching Product Designers
Taste the process:
Step 1: Meet & Greet with the Talent Acquisition Manager
Step 2: Meet & Greet with the Director of Product Design
Step 3: Case Study with the SVP of Product and Director of Product Design
Step 4: Cultural Fit Meeting with 2 members of the Product team
We are an equal opportunity company and we are committed to building a diverse team that feels welcome in our workplace. We do not discriminate on the basis of race, colour, national origin, sexual orientation, gender, age, mental or physical ability, or any way you represent yourself. We strongly believe diversity makes for a more successful company.